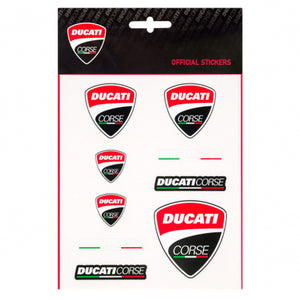 2020 Ducati Corse Racing MotoGP Medium Sticker Sheet Bike Decals - Official Licensed Ducati Corse Merchandise
2020 Ducati Corse Racing MotoGP Medium Sticker Sheet Bike Decals - Official Licensed Ducati Corse Merchandise
2020 Ducati Corse Racing MotoGP Medium Sticker Sheet Bike Decals - Official Licensed Ducati Corse Merchandise
Branding:
Official Licensed Merchandise from the Ducati Corse 2020 range.

Product Description:
Ducati Corse sticker kit to customize your bike and your helmet with the symbols of the Italian team. Set of 9 stickers consisting of: 5 Ducati logo stickers and 4 Ducati Corse stickers (2 White & 2 Black). Set of stickers in various sizes and sizes.


Product Features:
• Medium Sized PVC Decal Pack
• Official 2020 Merchandise
• 'Ducati Corse Original'

Manufacturer Part Number:
DUCATI-2056003

---
We Also Recommend
---
People who bought this product, also bought