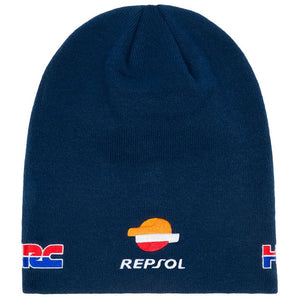 Honda HRC Repsol MotoGP Beanie Hat - Navy Blue - Official Licensed Honda HRC Repsol Merchandise
Honda HRC Repsol MotoGP Beanie Hat - Navy Blue - Official Licensed Honda HRC Repsol Merchandise
Honda HRC Repsol MotoGP Beanie Hat - Navy Blue - Official Licensed Honda HRC Repsol Merchandise
Branding:
Official Licensed Merchandise from the Honda HRC Repsol 2020 range.

Product Description:
On the front we find the official REPSOL logo, on the sides the HRC logos and on the back the ALPINESTARS logo.

Wear the same beanie as Marc Marquez to cheer on your favourite team at the circuits.


Product Features:
• Official 2020 Merchandise
• 'Honda HRC Repsol Original'
• 100% Cotton

Manufacturer Part Number:
2048503

---
We Also Recommend
---
People who bought this product, also bought